Evansville Philharmonic Orchestra
Founded in 1934 and currently led by music director Alfred Savia, the Evansville Philharmonic Orchestra (EPO) is the largest arts employer in the region, supporting 80 full-time musicians from diverse backgrounds. Many of the musicians have graduated from the finest music schools in the country, including Indiana University and the University of Evansville. The Evansville Philharmonic Orchestra is committed to delivering exceptional music experiences that connect and strengthen the Evansville community.
Each year the programming runs from September through May and offers an experience of passion, emotion, and energy to thousands of people, including: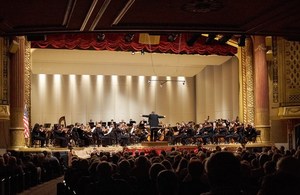 6-concert Classics Series
6-concert Pops Series
6 Educational Youth Concerts
Handel's Messiah by Candlelight
Tchaikovsky's The Nutcracker in collaboration with Evansville Ballet
The Evansville Philharmonic highlights music as a legitimate pursuit that will enrich a person's development, self-esteem, and ties to the community.
ROBERT MOODY, GUEST CONDUCTOR ::
Date: Saturday January 26, 2019
Time: 7:00 PM



ROBERT MOODY RETURNS TO THE VICTORY STAGE! CURRENTLY MUSIC DIRECTOR OF THE MEMPHIS SYMPHONY ORCHESTRA, MOODY BEGAN HIS CONDUCTING CAREER UNDER MAESTRO SAIVA AS ASSISTANT CONDUCTOR, CHORUS CONDUCTOR AND FOUNDING CONDUCTOR OF THE EVANSVILLE PHILHARMONIC YOUTH ORCHESTRA. HE WILL LEAD THE ORCHESTRA IN MENDELSSOHN'S "ITALIAN" SYMPHONY NO. 4 AND REUNITES WITH THE CHORUS FOR JOHN RUTTER'S UPLIFTING "REQUIEM."
COUNTRY LEGENDS ::
Date: Saturday February 09, 2019
Time: 7:00 PM



HEAR A TRIBUTE TO THE GREATEST NAMES IN COUNTRY MUSIC INCLUDING SONGS BY FAMED SINGERS AND SONGWIRTERS LIKE JOHNNY CASH, HANK WILLIAMS, KENNY ROGERS, DOLLY PARTON, CARRIE UNDERWOOD, AND FAITH HILL. NASHVILLE BASED RECORDING ARTIST PATRICK THOMAS AND NASHVILLE BASED COUNTRY MUSIC RECORDING ARTIST RACHEL POTTER WILL SING YOUR FAVORITE COUNTRY CLASSICS.
BRAHMS' FIRST CONCERTO AND STRAVINSKY'S FIREBIRD! ::
Date: Saturday February 23, 2019
Time: 7:00 PM



AMERICAN PIANIST NORMAN KRIEGER RETURNS TO PERFORM THE INTENSELY ROMANTIC AND PASSIONATE BRAHMS' "PIANO CONCERTO NO. 1." IGOR STRAVINSKY'S BALLET "FIREBIRD" BECAME AN INSTANT SUCCESS AND THE SUITE FROM THE BALLET REMAINS HIS MOST POPULAR ORCHESTRAL WORK. EXPERIENCE THE CAPTIVATING SCORE AND MESMERIZING STORY OF A MYSTICAL BIRD WITH FIERY RED FEATHERS.