Evansville Philharmonic Orchestra
Founded in 1934 and currently led by music director Alfred Savia, the Evansville Philharmonic Orchestra (EPO) is the largest arts employer in the region, supporting 80 full-time musicians from diverse backgrounds. Many of the musicians have graduated from the finest music schools in the country, including Indiana University and the University of Evansville. The Evansville Philharmonic Orchestra is committed to delivering exceptional music experiences that connect and strengthen the Evansville community.
Each year the programming runs from September through May and offers an experience of passion, emotion, and energy to thousands of people, including: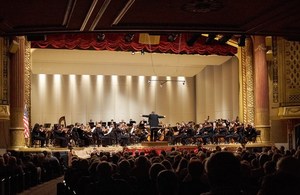 6-concert Classics Series
6-concert Pops Series
6 Educational Youth Concerts
Handel's Messiah by Candlelight
Tchaikovsky's The Nutcracker in collaboration with Evansville Ballet
The Evansville Philharmonic highlights music as a legitimate pursuit that will enrich a person's development, self-esteem, and ties to the community.
Beethoven, Brahms and Bluegrass ::
Date: Saturday September 29, 2018
Time: 7:00 PM



"CANDID OVERTURE" KICKS OFF THE EVANSVILLE PHILHARMONIC'S CELEBRATION OF THE 100TH BIRTHDAY OF LEONARD BERNSTEIN. KENTUCKY NATIVE TESSA LARK RETURNS BY POPULAR DEMAND TO PERFORM BEETHOVEN'S "SECOND ROMANCE" SHOWING OFF HER CLASICAL SKILLS, WHILE "LOVE LETTER" DISPLAYS HER VERSALTILITY IN BLUEGRASS. DANCE MUSIC BY AARON COPLAND AND JOHANNES BRAHMS ADDS TO THIS CONCERT'S FOLKSY FEEL.
VECTRENíS OPENING NIGHT: HALLOWEEN BASH! ::
Date: Saturday October 27, 2018
Time: 7:00 PM



COME ENJOY A NIGHT FULL OF SPOOKY MUSIC TO GET YOU READY FOR HALLOWEEN! THIS CONCERT IS FULL OF TRICKS, TREATS, AND ENTERTAINING MUSIC! HEAR A VARIETY OF THRILLING PIECES INCLUDING RUSSELL PECK'S "THE CHILL OF THE ORCHESTRA," EDVARD GRIEDG'S "IN THE HALL OF THE MOUNTAIN KING," PLUS TUNES FROM "PSYCHO" AND OTHER FAVORITE HALLOWEEN MOVIE SCORES.
OLD NATIONAL BANK PRESENTS WEST SIDE STORY IN CONCERT ::
Date: Saturday November 10, 2018
Time: 7:00 PM



NOVEMBER BRINGS "WEST SIDE STORY," THE MONDERN DAY RETELLING OF THE STORY OF "ROMEO & JULIET" THROUGH THE RIVAL GANGS OF NEW YORK CITY'S JETS & SHARKS. FEATURING AN EXCITING MIX OF JAZZ AND LATIN MUSIC, "WEST SIDE STORY" INCLUDES "SOMEWHERE," "TONIGHT," AND "AMERICA." THIS CONCERT WILL FEATURE STELLAR SINGERS FROM THE BROADWAY AND OPERA STAGES.