Evansville Philharmonic Orchestra
Under the leadership of Music Director Roger Kalia, the Evansville Philharmonic Orchestra has become the largest non-profit performing arts institution in the Tri-State area with a commitment to artistic excellence, diverse and creative programming inside and outside its historic Victory Theatre home, its engagement with communities throughout the state of Indiana and its ambitious approaches to music education, performance, and collaboration. In the decades since its founding in 1934, the EPO has presented a range of classical, pops, family, diversity, and holiday programming to thousands of people each year.
Each year the programming runs from September through April and offers an experience of passion, emotion, and energy to thousands of people, including: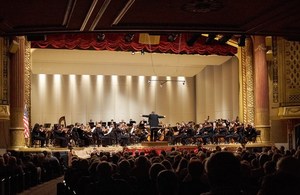 Lincoln Amphitheatre Pre-Season Concert
6-concert Classics Series
5-concert Pops Series
6-Educational Youth Concerts
2-Handel's Messiah by Candlelight (Evansville and Jasper)
Tchaikovsky's The Nutcracker in collaboration with Evansville Ballet
The Evansville Philharmonic highlights music as a legitimate pursuit that will enrich a person's development, self-esteem, and ties to the community.
EPO PRESENTS NOTHIN' BUT THE BLUES, SHAYNA STEELE, VOCALIST ::
Date: Sunday February 13, 2022
Time: 2:00 PM



THE BLUES IS AT THE HEART AND SOUL OF NEARLY EVERY FORM OF POPULAR MUSIC OF THE PAST 100 YEARS. "NOTHIN' BUT THE BLUES" EXPLORES THE MUSIC THAT STARTED IT ALL AND PAYS TRIBUTE TO THE FIRST MUSICAL LEGENDS WHO SANG THEIR WAY INTO HISTORY. JOIN US FOR AN EXCITING AFTERNOON OF SONGS THAT INFLUENCED ARTISTS LIKE ERIC CLAPTON, THE BEATLES, LED ZEPPELIN AND COUNTLESS OTHER MUSICAL ICONS. SONGS INCLUDE ST. LOUIS BLUES, HOUSE OF THE RISING SUN, NOBODY KNOWS WHEN YOU'RE DOWN AND OUT, AND BABY WON'T YOU PLEASE COME HOME.
EPO PRESENTS MAESTRO OF THE MOVIES: CELEBRATING 90 YEARS OF JOHN WILLIAMS ::
Date: Saturday March 19, 2022
Time: 7:00 PM



THE EPO BRINGS YOUR FAVORITE JOHN WILLIAMS FILM SCORES TO LIFE TO CELEBRATE HIS 90TH BIRTHDAY. FROM STAR WARS, INDIANA JONES, AND CATCH ME IF YOU CAN, TO BORN ON THE 4TH OF JULY, SCHINDLER'S LIST, MINORITY REPORT, HOOK, SUPERMAN, AND JAWS, HEAR SOME OF THE MOST MEMORABLE, ICONIC MOVIE THEMES OF THE PAST 60 YEARS.
EPO PRESENTS POPS FINALE WITH SPECIAL GUEST ::
Date: Saturday April 02, 2022
Time: 7:00 PM



THE EPO HAS A SPECIAL GUEST COMING TO THE VICTORY STAGE FOR THIS FINAL POPS CONCERT. AN ANNOUNCEMENT WITH SPECIFIC INFORMATION WILL BE COMING SOON!