Evansville Philharmonic
Under the leadership of Music Director Roger Kalia, the Evansville Philharmonic Orchestra has become the largest non-profit performing arts institution in the Tri-State area with a commitment to artistic excellence, diverse and creative programming inside and outside its historic Victory Theatre home, its engagement with communities throughout the state of Indiana and its ambitious approaches to music education, performance, and collaboration. In the decades since its founding in 1934, the EPO has presented a range of classical, pops, family, diversity, and holiday programming to thousands of people each year.
Each year the programming runs from September through April and offers an experience of passion, emotion, and energy to thousands of people, including: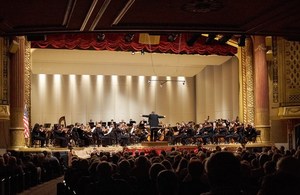 Lincoln Amphitheatre Pre-Season Concert
6-concert Classics Series
5-concert Pops Series
6-Educational Youth Concerts
2-Handel's Messiah by Candlelight (Evansville and Jasper)
Tchaikovsky's The Nutcracker in collaboration with Evansville Ballet
The Evansville Philharmonic highlights music as a legitimate pursuit that will enrich a person's development, self-esteem, and ties to the community.
EPO - Heavenly Spheres: Mozart Requlem ::
Date: Sunday November 13, 2022
Time: 4:00 PM
EPO- Musician's Choice ::
Date: Sunday January 22, 2023
Time: 4:00 PM
EPO- Spanish Nights ::
Date: Saturday February 25, 2023
Time: 7:00 PM