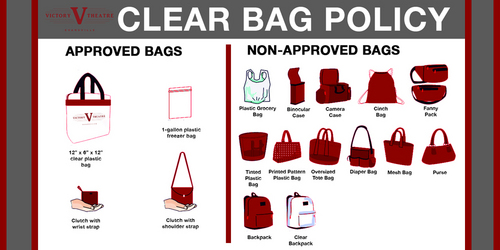 Admission
All guests entering the Victory Theatre must have a valid event ticket to gain admission. For most events, children under 2 years of age may enter the Victory Theatre free of charge, providing that he/she sits on the lap of a parent or guardian. Guests 2 and older must have a ticket to enter the Victory Theatre. Guests should retain their ticket stubs in order to verify proper seat location. Please sit only in your own seat, as designated by the ticket, to avoid inconvenience to others. Re‐Entry to the Victory Theatre is prohibited.
Advanced Tickets
To purchase tickets (if available) for upcoming events at the Victory Theatre, please visit the Ticket Office located on the North side of the arena on Main Street or, if inside the Arena, at the interior ticket windows located in the main lobby. You may also contact Ticketmaster online at: www.ticketmaster.com
Alcohol Policy

Alcohol is sold to guests 21 years of age and older and proper identification must be shown at time of purchase. There is a (2) drink maximum per purchase per person.
Alcohol Shut‐off
During basketball games alcohol sales are terminated with 10 minutes remaining in the second half. For hockey games alcohol sales are terminated at the start of the 3rd period. For events other than hockey and basketball, termination of alcohol sales will be determined on an event by event basis by senior management.
Animals

Animals are not permitted in the Victory Theatre, with the exception of trained service animals. If you have any further questions regarding this please contact the main administrative offices at 812‐422‐8000.
Announcements/Paging

Private announcements by the PA announcer will not be made during any event at the Victory Theatre.

Assisted Listening Devices

RF style assisted listening devices and sign language interpretation services are available by making advanced arrangements with the Victory Theatre at least one week prior to a scheduled event. For more information, call (812) 422‐8000.
Audio Recording

Audio recording devices are not permitted inside the Victory Theatre.
Automated External Defibrillator

An AED is a device used to administer an electric shock through the chest wall of the heart. A built in computer assesses the patient's heart rhythm, judges whether defibrillation is needed and then administers the shock. Audible and/or visual prompts guide the user through the process.
An AED machine is located on the concourse in the first aid room at section 113. There is also an AED located at guest services located on the concourse at section 101. These portable models allow nonmedical people to respond to a medical emergency where defibrillation is required.
ATM

The Ford Center has 3 automated teller machines located within the arena. There is one in the main entry lobby and 1 on each side of the main concourse.
B
Baby Changing Stations

The Victory Theatre has numerous baby changing stations in men's, women's restrooms. Bag/Purse Policy
Bags and Signs
All bags and purses entering the Victory Theatre are subject to search prior to entering the theater. All bags must be clear and should not exceed the size of 12" x 6" x 12". Backpacks and diaper bags are prohibited from the Victory Theatre. Banners and Signs
Banners and Signs
Small signs are allowed but larger signs with sticks or poles are not. Banners and signs may not be hung or fastened anywhere in the theater. Banners and signs must not be obscene or cause any disturbance with other fans. The Victory Theatre reserves the right to remove any banner or sign without exception.


C
Camera and Video Policy

Video cameras are not allowed in theVictory Theatre. The use of "non professional" still cameras, withoutflash, is permitted during basketball and hockey home games. Professional cameras are defined as cameras with a detachable lens. The use of still cameras during concerts and other events hosted at the Victory Theatre will be determined on an event‐by‐event basis. (insert link to photo of allowed/prohibited devices)
Cancellation and Postponed Events

If an event at the Victory Theatre is postponed or cancelled, please call the Ford Center ticket office at (812) 422‐1515. In most cases, refunds will be available at the point of purchase.
Check‐in Services

The Victory Theatre cannot be held liable for prohibited items such as: noisemakers, outside food & beverage, coolers, bottles, cans, containers, weapons of any kind, and laser pointers. Such prohibited items must be returned to the patron's vehicle or disposed of prior to entering the theatre.
Concession Stands/Food & Beverage

The Victory Theatre has a wide variety of food and beverage selections located in the 6th Street Lobby.
Container Policy

For the safety of our guests, bottles, ice chests, thermoses, containers of any kind, or any items that are potentially harmful are prohibited and will not be allowed into Victory Theatre.
Credit Cards

Visa, American Express, Discover and MasterCard are accepted at Victory Theatre merchandise stands, ticket office, and concession stands.



D
Disabled Services

Seating

Disabled and accessible seating is available in all ticket price categories, based on availability. Companion seats are available for purchase with each disabled seat purchased. Victory Theatre will attempt to reasonably accommodate any concern with regard to patrons with disabilities. Please call the ticket office at (812) 422‐1515 for more information.

Ticketing

When purchasing tickets for an event held at the Victory Theatre, please ensure your seats are located in an area that will appropriately meet your needs.
Victory Theatre will attempt to reasonably accommodate any concern with regard to guests with disabilities.

Parking, Drop‐off, & Entrances

There are accessible drop‐off spots located outside of the main entry doors and accessible parking in front of the Civic Center located on Martin Luther King Jr. Blvd as well as within area parking garages. The main entry lobby entrances are ADA accessible.

Restrooms

All public restrooms at the Victory Theatre are accessible for our guests with disabilities.
Door Opening Times

For most events, doors open (1) hour prior to the announced start time of the event.
Drinking Fountains

There are drinking fountains located throughout the theater.
E
Ejection/Guest Removal

Victory Theatre reserves the right to eject guests whose behavior is against policy, unruly and/or illegal. If you observe a guest behaving in such a manner please notify the nearest Victory Theatre staff member.

Emergencies and Evacuations

The Victory Theatre is committed to providing the highest standard of safety and security for our visitors and employees. Emergency response procedures have been developed to address an emergency or crisis that might arise at the Victory Theatre or surrounding areas that might affect the theater operation. In the case of an emergency, please follow the instructions of the arena staff, and if an evacuation is needed, proceed to the nearest exit stairwell; head down to the street level and out of the building.
Victory Theatre personnel have been trained to assist in emergency situations. Visual and audible alarms are located throughout the building for use in the event of an emergency.
Elevators
There are 2 elevators in the 6th Street Entrance lobby that can take guests up to all levels. All other guests should use stairwells when possible.
Executive Offices
The entrance to the VenuWorks executive offices is located at 1 SE MLK Jr. Blvd., facing the Civic Center. The main office hours are 9:00am to 5:00pm, Monday through Friday. The VenuWorks office telephone number is (812)422‐8000.
F

Fan Code of Conduct/ Guest Conduct Policy

The following behavior or activities are grounds for eviction from Victory Theatre:
Use of profanity or unacceptable language of any type.
Possession of illegal or unauthorized items inside the Victory Theatre.
Unacceptable or indecent dress.
Failure to obey or follow Victory Theatre's smoking policies.
Use of illegal substances or drugs; Public drunkenness.
Entering or attempting to enter any "restricted" areas such as playing surface, stage area, backstage or restroom of the opposite sex.
Participating in a fight.
Verbally abusing, threatening or intimidating other guests or arena employees.
The throwing of any objects or projectiles in seating areas, from balconies, ramps, stairwells or any other areas.
First Aid/Nursing Mothers

G
Guest Services


L

Lost and Found

.At the end of the night, the Victory Theatre takes all lost and found items to the VenuWorks administrative office. Each item is tagged with the event and the location of where the item was found. You can contact the main office at (812) 422‐8000 to inquire on lost items. The Ford Center will hold the item for (30) days.
Lost Children


M
Merchandise

During special events, you may purchase souvenirs, t‐shirts, and other novelties from merchandise stands located inside the building.
O
Outside Vending

The selling or sampling of merchandise, food, beverages, tickets or other items on the property without written Victory Theatre authorization is strictly prohibited.
P

Parking

Information available at: http://thefordcenter.com/arena/directions_and_parking

Prohibited Items
Cameras with detachable lenses
Computers/ Laptops
Outside food or beverage
Cans, bottles, coolers, or other similar containers
Video Camera or audio Recorders
Laser pens or laser products
Noise Makers
Weapons of any kind
Backpacks
Diaper bags
Clear bags larger than 12" x 6" x 12"
Clutch purse larger than 4.5" x 6.5"
Fireworks or any incendiary device
Animals
Large Umbrellas
Flag poles or any support frames for banners/signs
Balloons
Any other items deemed unacceptable by Victory Theatre.
No re-entry permitted.
Victory Theatre is a non-smoking facility.
Projectiles
The throwing of objects inside and outside the Victory Theatre is strictly prohibited and patrons caught doing so are subject to ejection from the theater.
Public Telephones
There are no public telephones available at the Victory Theatre. If a guest has an emergency and needs to place a call, please see the nearest Victory Theatre staff member and ask for assistance.
R
Re‐entry
Victory Theatre has a strict to no re‐entry policy during events. Guests will not be allowed to leave during an event and re‐enter during the same event.
Restrooms
Victory Theatre has restrooms near the Main Street Entrance and in the 6th Street Lobby. All restrooms are ADA compliant.
S
Signs and Banners

Signs and banners are not permitted inside Victory Theatre if they:

Have foul language or obscene images, contain poles, sticks or pipes, block the view of another guest, or they are attached to any part of the theater.
Smoking

Smoking inside theVictory Theatre is strictly prohibited. Any guest caught smoking inside the theater is subject to ejection.
Stairwells

Strollers
Strollers are not permitted in the seating area. If necessary, strollers may be checked in at Guest Services upon entering the theater. Guests can also check with their nearest usher for assistance in storing them closer to their seat. Victory Theatre is not responsible for any lost, stolen or damaged strollers.
T
Ticket Office

The Ford Center ticket office is located on Main Street, on the North side of the arena. Ticket office hours are 10:00am to 5:00pm CST, Monday - Friday. The ticket office phone number is (812) 422‐1515. Victory Theatre Ticket Offices opens on event days at 3PM.
Ticket Policies

Will Call Policy‐ Tickets may be picked up at the Will Call window beginning two hours prior to the event. The customer must present photo ID and credit card used to purchase the tickets. Tickets will only be released to the person whose name was provided with the ticket order.

Children's Ticket Policy‐ Children ages 2 and over are required to have a ticket for admission, with the exception of select children's shows that require tickets for all children age 1 and over. Please call the Ford Center Ticket Office at 812‐422‐1515 for specific show policies.

Stolen Ticket Policy‐ If tickets are stolen; guests must provide proof of purchase and a police report to the Ford Center Ticket Office.

Ticket Scalping‐ The resale of Victory Theatre tickets is not permitted on the premises. Please note that only tickets purchased at the Ford Center Ticket Office or through Ticketmaster will be honored. All others may be asked to leave or purchase new tickets, if available.
U
Umbrellas

Small personal umbrellas are permitted inside the Victory Theatre, but we ask that you keep them folded up and put away while inside the theatre.

W
Websites

Victory Theatre website: www.victorytheatre.com

Ticketmaster: www.ticketmaster.com
Wheelchairs

All levels of the Victory Theatre meet ADA standards.
Z